The World NEEDS Health Coaches
The GOLD STANDARD in Functional Medicine Health Coaching.
Functional Medicine Coaching Academy (FMCA) is commitment to building a healthier world and a better future. FMCA trains and certifies health coaches in their renowned, fully online FMCA Health Coach Certification™ Program. All over the world, Functional Medicine Certified Health Coaches are empowering others to revitalize their health and wellness by creating sustainable lasting change. We invite you to discover more about FMCA, health coaching, and how you can transform lives as a Functional Medicine Certified Health Coach.
Explore the industry that is transforming healthcare!
Whether you're looking to coach or simply add Functional Medicine and positive psychology to your practice or lifestyle, this is the path forward. Take the first step and discover how you can create accessible, lasting change.

Ebooks
• How to Become a Health Coach: The Career That Can Bring You Joy
• The Doctor's Guide to Health Coaching
Podcasts
• Why I became a Health Coach
• Why did I choose FMCA
FMCA Info Packet
Program Comparison Checklist
Stand out in your career as a Health Coach
Part behavior change specialist, part supportive mentor, and part wellness educator, the Functional Medicine Health Coach is the bridge between what the client knows they need to do to be healthy, and the motivation to create lasting change.

Functional Medicine Health Coaches don't give advice or prescribe treatments. Instead, they use their unique skills to cultivate personal responsibility so clients can tap into their innate strengths and self-efficacy to discover their full potential.

Great coaches fully listen to their clients and offer support, accountability, collaboration, education, and resources. While prior training in another healthcare discipline can be helpful, you don't need a background in healthcare in order to become a first-rate Functional Medicine Certified Health Coach.
The most requested Health Coach training and certification program
The FMCA Health Coach Certification™ Program fully prepares you with the training, experience, tools, and expertise to succeed as a Functional Medicine Certified Health Coach (FMCHC). Learn to create meaningful connections with clients and partner effectively with practitioners using cutting-edge research and techniques presented by our industry's most influential experts.
Flexible Accessibility
Online learning experience with access to your course materials anywhere, anytime.
World-Renowned Educators
Our phenomenal group of educators is made up of senior faculty members from our collaboration partner, The Institute for Functional Medicine, and leaders in the fields of positive psychology and health coaching.
Comprehensive Curriculum
Deep dive into positive psychology coaching techniques, functional medicine principles, nutrition and food plans, mind-body medicine, and the psychology of eating.
Personalized Interaction
Individualized attention and feedback from Course Facilitators and leadership team, and regular opportunities to interact with our founders and internationally recognized industry experts.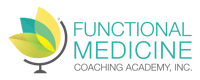 Functional Medicine Certified Health Coaches are the KEY to a healthier future.
More people are taking charge of their own health and wellness, and recognizing that health coaches are the key to creating sustainable and accessible change. The Functional Medicine Coaching Academy is leading the movement to transform healthcare, and Functional Medicine Health Coaches are empowering others in their health and wellness journeys all over the world.

— Dr. Sandra Scheinbaum, Ph.D.
CEO & Founder of FMCA
We invite you to follow our FMCA social channels and join the conversation!